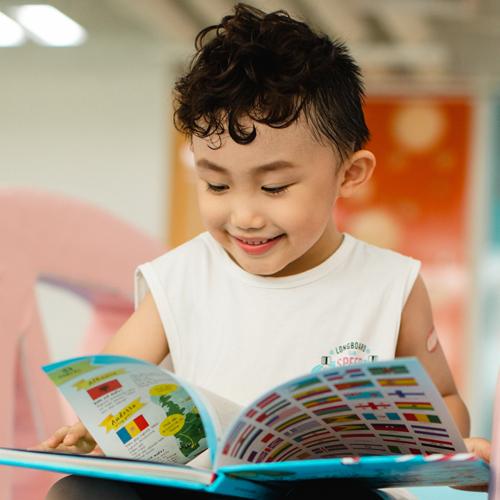 Why should kids read more?
Reading books is one of the basic skills and habits children need to form to be successful in the future. Books give children a foundation of knowledge and vocabulary to understand their surrounding world.
IMPROVING WRITING SKILLS
The more they read, the more children understand about sentence structures. Kids who read more books can write better because they make more meaningful, smooth, and coherent sentences. Reading also helps kids to improve spelling and vocabulary as they find new, strange words while they read.
BROADENING CHILDREN'S HORIZON
Kids acquire wider knowledge and experience by reading. The more books they read, the more things they learn – and the more solid their foundations grow.
In addition, books also teach children about different nations and cultures around the world. An interesting book about history, people and culture will widen one's knowledge even though they have never set foot in the place they are reading about – books bring kids to new lands and will inspire them to travel in the future.
BOOSTING KIDS' IMAGINATION
Fiction helps kids to immerse themselves in fantastic adventures taking them to dreamland, to imagine places and times far beyond reality. Books are the key to activating and inspiring children to imagine and dream, awakening their creativity.
DEVELOPING CHILDREN'S ANALYTICAL AND PROBLEM-SOLVING SKILLS
Reading a wide range of books will help children earn a deeper understanding of the things and phenomena surrounding them, keeping them open to new ideas and willing to listen and make better decisions. Reading will also develop their analytical skills, helping them to make fewer mistaken judgement calls and help them deal with specific situations.
ACTIVATING SYMPATHY  
Books that describe the characters' emotions and feelings will teach children to sympathise and learn to respect others' feelings. This, in turn, will translate into more generosity and make it easier to forgive others' mistakes.
STRENGTHENING COMMUNICATION SKILLS
Reading helps children expand their vocabulary and find the right words to express their thoughts and ideas. Children who read more are able to express their emotions appropriately, thereby helping them to understand themselves and be more confident in communication.
Bring your children to Smart Kids Playground to experience hundreds of books of different kinds and topics!