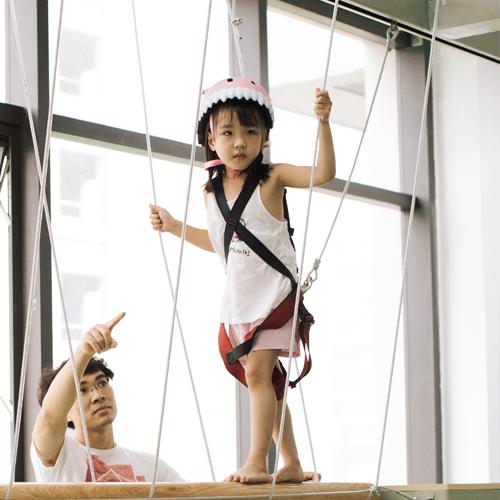 Do you know the 16 life skills your baby should have?
Dear parents, have you ever wondered how to help your children be more independent? Can your children take care of themselves? Do you think your child has been equipped with the essential life skills to face the world? Armouring children with life skills goes far beyond lessons from school. Children need to be taught at home through their parents' experiences, fun activities and training outside.
Dr Amarita Basu Misra, Montessori expert, confirms that when you want your child to learn new things, you need to make an example. Being a parent is not easy, it is very difficult because you need to improve yourself when teaching a child. Here are the 16 life skills all parents should teach their children:
BASIC SELF-DEFENSE
In today's world, safety is extremely important and developing self-defence skills not only helps children feel more independent but also more confident. Basic self-defence is necessary, regardless of gender.
FIRST AID AND IMPORTANCE OF HEALTH
Parents cannot always be with their children. First aid skills are essential for children, and parents can introduce them a first aid kit and explain its usage. Another important skill is teaching children how to take care of their health. Instead of forcing them to eat their vegetables, parents would be better off talking about the health risks of eating junk food and instilling healthy eating habits that the children can follow on their own.
SOLVING ONE'S OWN PROBLEMS
Let your children face their own problems. If they are not taught a sense of responsibility and problem-solving skills today, they will face big problems in the future. Many parents try to do everything for their children, which takes away their kids' opportunity to try their hands at anything. Parents can let children put their clothes in their school bags, or put their bowl into the sink after each meal, and many more things.
TIME MANAGEMENT
Parents can teach children to manage their time by giving them responsibility for their own time. They can buy them an alarm clock, then give them instructions of when to wake up for school instead of waking them up. Create a schedule for the children to track their activities and hang it on the wall at the right height so that the children and parents can track together what to do and when.
DECISION-MAKING 
Education, career, and friends are three of the many important decisions a person needs to make in life. Parents can start by asking their children to make a choice: buy these clothes or those, eat this or eat that? Your child will understand the consequences and outcomes of each decision. Parents should guide their children throughout the process, helping them to consider the advantages and disadvantages before they make a final decision.
BASIC MONEY MANAGEMENT AND BUDGETING
This is one of the basic skills that kids must learn. Parents can give children pocket money once a week or every two weeks to pay for their own needs. If they want to buy something a little more expensive, ask them to save up for it. Otherwise, parents can help kids by promising that for every small amount of money they save, the parents will add contribute in kind to buy the thing the children want.
This will help children develop money management skills and understand the concept of "comparative shopping". Parents should explain why sometimes they choose cheaper products. This can also be practized during holidays: when your children want to buy a souvenir, encourage them to choose a few items of the same type then make an informed choice.
Teaching your children about budgeting will help develop a habit of not wasting money and respecting the value of money.
LEARNING HOW TO SHOP
If possible, always take your children shopping. Show your children where to find the items, give them a basket, and ask them to pick up a few things on their own. Parents can also put their children in charge of something: they could take care of snacks, juice, and other small things. At the counter, teach your children how to pay. The most important thing is to teach your child about shopping smart.
SIMPLE COOKING
Parents should encourage children to help with the simple tasks of cooking such as picking vegetables, squeezing lemon, and pounding garlic. Children also have a blast kneading dough while parents are preparing the filling.
UNDERSTANDING THE IMPORTANCE OF THE ENVIRONMENT
Appreciating our natural environs from an early age will instill in children love for the planet. Parents can teach their children why preserving the environment is essential by making small lifestyle changes at home. Teach your children to throw rubbish in the right place or help them plant seeds and water plants.
LEARNING HOW TO INTERACT WITH EVERYONE
Parents often teach their children about "stranger danger" but this only makes them scared of new faces, even distant relatives. Instead, parents should teach them to do exactly what adults do and distinguish good strangers from bad ones and the way to interact with them (shutting down a conversation is part and parcel of this). Teach your children how to make friends, how to be friendly with people,and when and how to say no.
If parents do not teach them these things when they are young, children may not develop positive social skills.
CLEANING UP AND DOING HOUSEWORK
Start with small chores like keeping the room clean, making the bed, and making sure everything they own is in its proper place. Parents can then ask their children to put the dishes into the sink after each meal or clean the table and throw trash in the bin.
UNDERSTANDING THE RULES WHEN EATING OUT
Every child needs to know how to behave at a restaurant and how to order food. Parents should encourage their children to order food by themselves and decide what they want to eat. They can also teach them how to eat with a fork and knife, or chopsticks, depending on the dish.
USING A MAP
Parents can start by teaching their children about the roads around the house and testing them by asking to lead the way home or to school. They can teach children to read a map or use the GPS and follow the instructions.
UNDERSTAND BASIC TRAFFIC RULES
Parents can guide their children on how to use public transport, teach them how to buy bus tickets and the basics of taking the bus from home to school. This is an important skill that children will certainly need in the future and will come in handy in an emergency.
LOOKING FROM THE PERSPECTIVES OF OTHERS
When your children tell you about a problem, encourage them to look at the situation from the perspective of others. Parents should strive to explain everyone's emotional reactions every time they have a chance. Explain why someone is sad or angry. This greatly increases empathy and even problem-solving skills, not to mention helping your children make sense of those around him.
RESPOND AND ADAPT
Another important lesson for children is to be resilient. Parents cannot always be there with the solution. Empower your children to solve problems on their own so that they can be ready to face new challenges. Children must learn to be resilient to adapt to different circumstances and environments.
At the age of six or seven, children develop the foundations of their character. Life skills will enhance their positive traits. Developing life skills is important for children to have an idea of ​​what they want to do in life and remember the type of person they want to become.
Parents should focus on educating their children in ways that make them happy and excited, as action and positive reinforcement help lessons stick better so that parents will not have to worry about their children growing up.